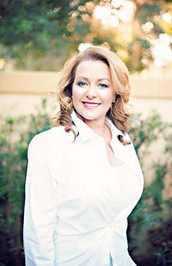 Born and raised in Louisiana, artist Velia Lala has a multi-faceted career, which spans more than thirty years. From abstract to classical to castings, her work frequently reflects her background and zest for life. Her original and custom works exude life and energy with vibrant colors and textures that evoke authentic and positive emotions. Her talent is showcased through a multitude of artistic techniques that include acrylic, mixed medium, epoxy high gloss, photography, and body casting/bronzing.
Velia's work has been featured in regional media publications, galleries, and throughout the United States via custom commissions. More recently, Velia has received media attention for her custom flag series, in particular, her "American Pride" collection. A staunch supporter of the divisions of United States Armed Services, Velia has presented pieces from her patriotic collection to American troops and their families in addition to donating to worthy causes such as the Wounded Warrior Project.
Velia has further diversified her artistic repertoire by mastering the process of replicating human models through the process of life casting. She is able to incorporate her unique style through the elements of sculpture in a three dimensional form. The result is a timeless work of art that captures the spirit of her models.
In addition to her collection of custom and original art, Velia, through Velia's Art Cart, supports art education and donates countless hours of art instruction to at-risk children in need. Velia's Art Cart, as well as her continually sold out adult Wine & Art Socials is just another way for the artist to give back to the community and expose the joy of creation to a wide demographic of people.
Velia's art continues to be showcased at high profile social events throughout the Southeast including the American Cancer Society's Cattle Barons' Ball, Sinfonia Gulf Coast's Wine Women & Shoes, The Bowlegs Augustus Museum, Gulf Coast Heritage Museum, Emerald Coast Special Military Operations Ball, Artists for Animals-Alaqua Animal Refuge, Destin Charity Wine Auction Foundation and the Children's Advocacy Center Gala.
Artwork
Contact/Gallery
V. Lala Galleries
30Avenue
12805 Hwy 98E
Suite O-101
Inlet Beach, Fl 32413
(850) 909-0101
(985) 507-9784
Velia@vlalagalleries.com