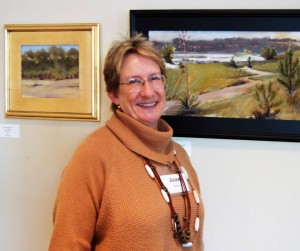 Joan Vienot has been "making pictures" for as long as she can remember. She remembers when her second-grade class was assigned to write and illustrate a story about John Glenn, who was making history as the first American to orbit the earth. A number of her classmates' stories were published in the local newspaper in Brighton, Colorado, but hers was the only drawing to be published. Joan recalls being mortified to be singled out at that tender age when a child wants want nothing more than just to fit in. Now, she counts it as the first time she was "published".
Joan attended the University of Northern Colorado from 1972 to 1977, receiving a Bachelor of Arts Degree in Fine Art and in Health-PhysEd-Recreation. She was certified to teach Art and was hired to replace her own art teacher at Brighton High School, in Colorado, who had retired the year Joan graduated from the university. Joan taught the two-dimensional arts — basic design, drawing, painting, and commercial art, from 1977 to 1980. Basic design was prerequisite to all of the other classes offered, which included sculpture, pottery, and jewelry. She also coached the girls swim team and the girls junior varsity basketball team.
In the fall of 1980, Joan moved to Seagrove Beach, Florida. Shortly thereafter, local photographer/framer Susan Foster invited Joan to be the featured artist in Susan's gallery in Grayton Beach where Joan was given studio space and wall space to display and sell her watercolor paintings. Joan feels privileged to have been there in 1989 when Susan and Jan Clarke and Kimberley Laws and a few other visionaries conceived of the first juried outdoor art show in Grayton Beach, the precursor to the nationally-recognized annual event now known as ArtsQuest.
Joan developed businesses outside of the arts. Some twenty years later, a hiking trip to Peru and renewed interest in outdoor activities fueled Joan's exploration of photography, and she discovered that weekly sessions of figure drawing were being held at a studio near her home – thus rekindled her passion for image-making.
In addition to drawing and painting, Ms. Vienot volunteers for the arts in her community, serving on the Board of Directors of the Cultural Arts Alliance of Walton County, the umbrella organization for the visual and performing arts in her area, and an active member of the A+Art Committee which showcases CAA member-artists' work at the South Walton Center of Northwest Florida State College.
Artwork
[nggallery id=18]
Contact
Studio visits by appointment.
Point Washington, FL
(850) 259-8394
joanvienot.com
facebook.com/JoanVienotArt
Gallery
You can find Joan's work at:
Bohlert Massey Interiors – figure drawings (Seacrest Beach)