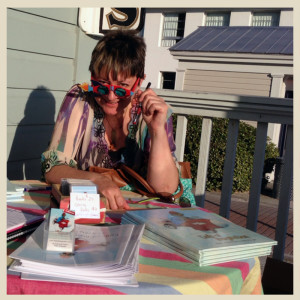 Robin Wiesneth is an artist, writer, animal lover, and life-long traveler. She's fueled by wine and chocolate, inspired by the beauty and grace of animals, and obsessed with creating contagiously happy art and books.
Animals are her favorite subjects and she often does commission portraits of pets from photographs. Her children's books feature whimsical animals in colorful stories of adventure.
Robin lives on the Emerald Coast but travels frequently, enjoying the sights and experiences that inspire her to create new art and books.
Visit her blog at ABrushwithHumor.com for stories, new art, and general nonsense.
Artwork
Contact
(850) 502-6707
ABrushwithHumor@gmail.com
ABrushwithHumor.com
facebook.com/abrushwithhumor
instagram.com/abrushwithhumor/
Gallery
You can find Robin's artwork and books at:
Retail Therapy
4552 US Hwy 98
Santa Rosa Beach, FL 32459
(850) 267-0990
Robin's books can be found at these additional locations:
Hidden Lantern Bookstore
SunDog Books
Furry Fanatics
The Doggy Bag
3 Dogs and a Chick
Artful Things