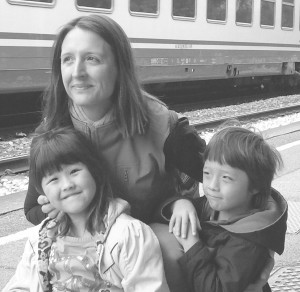 From masterful paintings on canvas to ornate shell mirrors, Mary Hong has caught worldwide attention of contemporary art enthusiasts. World travel as an 18-year veteran flight attendant, brought her creativity, imagination and inspiration. Workshops and self-teaching allowed her to play with many mediums. She developed a unique art form called ShardWorx (R) that combines paint and glass on canvas that is sold in eight states including seven galleries in Florida, and can be viewed on-line at MaryHongStudio.com. Her work has been featured in local, regional and national media outlets both in print and television. Mary earned her undergraduate degree from the University of Wisconsin-Madison and is a well-established, award-winning artist and entrepreneur in Northwest Florida. A professional artist for 23 years, she has participated in group and solo exhibitions in the U.S. and France and was the recipient of the 2014 Artist of the Year award from the Walton County Florida Tourist Development Council. Mary Hong currently owns and operates six galleries in Destin, Fla., Grayton Beach, Fla., New Orleans, La. and Nashville, Tenn. She lives on Florida's Emerald Coast with her husband, their twins — and a lot of glass.
Artwork
Contact/Gallery
Mary Hong Studio Gallery
26 Logan Lane, Unit F
Grayton Beach, FL 32459
Hours:
Monday – Saturday 10:00 AM – 6:00 PM
Sunday noon – 6:00 PM
(850) 231-1416
MaryHongStudio.com
facebook.com/maryhongart
facebook.com/maryhongstudio
instagram.com/maryhongstudio/
The Shard Shop is a friendly Make-Your-Own-Art Boutique located in the Shops of Grayton. ShardART is a mosaic-like technique of applying glass to canvas. Artist Instructors guide you through the process. Classes and Open Studio time is available daily. Check site for Artist Challenges and Events. The first weekend of every month showcases an Employee Art Show!
The Shard Shop
26 Logan Lane, Unit E
Grayton Beach, FL 32459
Hours:
Monday – Saturday 10:00 AM – 6:00 PM
Closed Sunday
(850) 231-0544
shardshop.com
marysglasstechniques.com
facebook.com/shardshopstudio
instagram.com/theshardshop/
Awards
2014 South Walton Artist of the Year