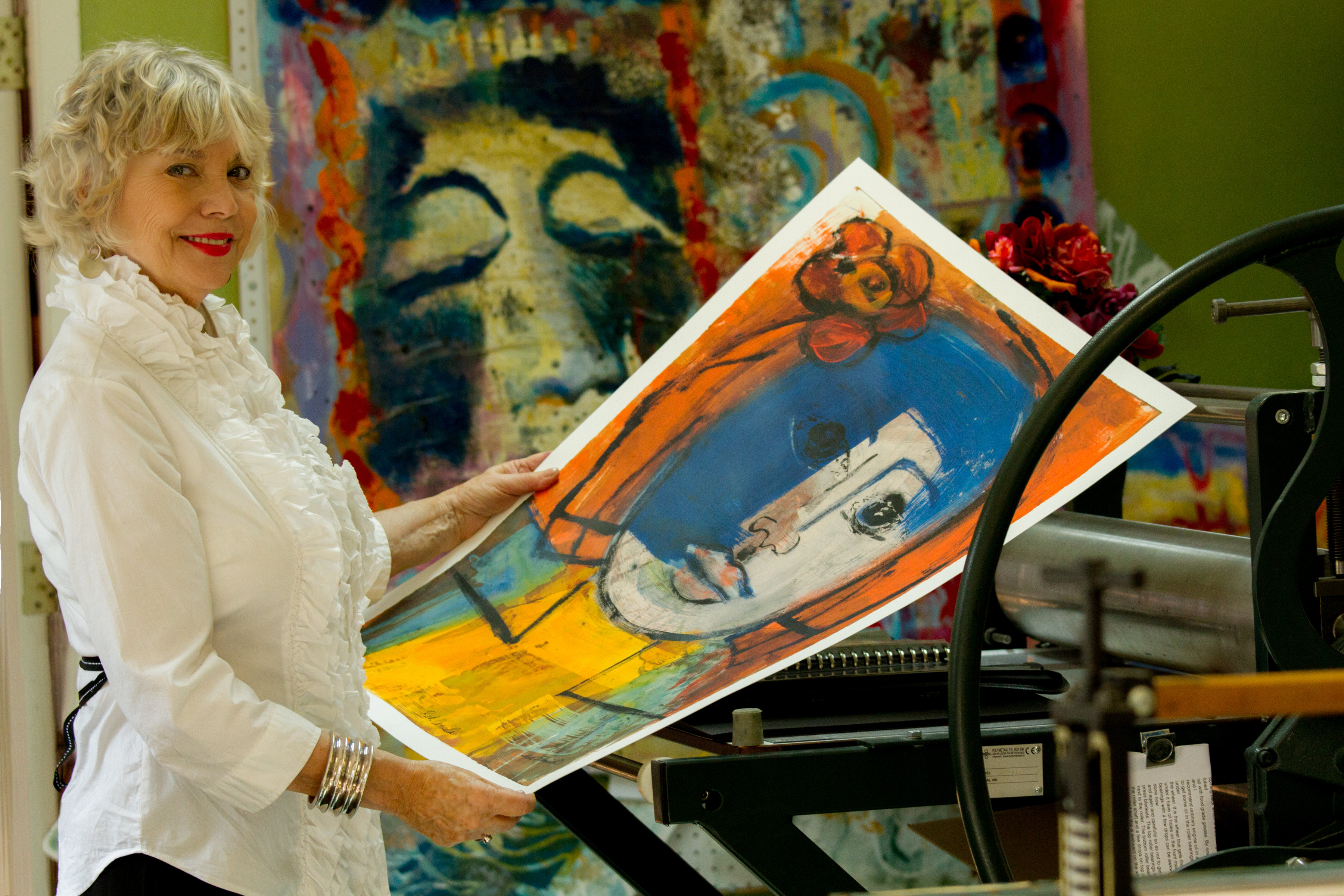 MARTI SCHMIDT
Artist/Printmaker Marti Schmidt combines ancient art forms with modern impressionism and adds textures, abstract shapes, and silhouettes that evoke a style distinctly her own. Marti's art reflects the tropical ambiance of the pan-Caribbean, the exotic mysticism of the Orient, with the infusion of European flavor.
The latest of her modern artwork, with its exotic imagery, bold approach to color, and layers upon layers of intaglio etchings, wood blocks, fine papers, and paint, allow images to be exposed from underneath, drawing the viewer deeper into her fine art prints and paintings, leaving them with the feeling of having been to far away places and finding new imagery with each study. Her latest works are influenced by art sabbaticals to France, reflecting the texture and colors of the French countryside, the city lights of Paris, the ancient caves of Pech Merle, and the stained glass of medieval churches.
Marti has over 40 years of experience in art, design, and painting, and has perfected various printmaking techniques including intaglio etching, carved woodblock printing with Chine-Collé, a special technique in printmaking in which a paper surface is bonded to a heavier paper for support in the printing process, resulting in a collage look. Marti has perfected her signature style in this medium. Her original prints, paintings, and canvases reflecting her iconic images of faces and figurative along with oneiric symbolistic work hang in some of the most prestigious homes, resorts, galleries, and corporate offices throughout the world.
Marti's custom fabrics from her Islandreams Textiles Collection and original paintings were featured at the exclusive Biras Creek Resort, a Relais & Chateaux Hotel, nestled in the British Virgin Islands on Virgin Gorda, BVI. Her work has also been featured two Southern Accents Show Houses, the Coastal Living Magazine Idea House, and in numerous regional, national, and international design magazines including Veranda Magazine, Better Homes & Gardens Bedroom & Bath Magazine, Better Homes & Gardens Decorating Magazine, and Casa & Estilo International Magazine.
Artwork
Contact/Gallery
Marti's art studio is available by appointment only.
(850) 974-8543
info@martischmidt.com
martischmidt.com
facebook.com/Marti-Schmidt-Art-Studio-49402749952/
twitter.com/MartiSchmidtArt
pinterest.com/martischmidt/
instagram.com/martischmidt/