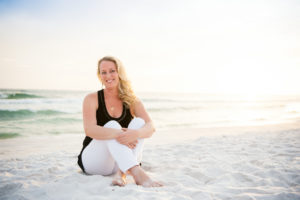 With an early love for art and nature, Mary remembers immortalizing her surroundings on whatever canvas she could get her hands on from before the age of three. She finds inspiration for her abstract waterscapes and marbled creations from her travels, people, colors themselves, and mostly, nature. Mary has always felt a special connection to nature, and it's one of the main things she looks forward to when traveling back to her native Sweden every summer.

Mary works in a loose, fluid style consisting of numerous layers of media, resulting in pieces that are often described as both dreamy and captivating. Rock formations, the sky, ocean currents, and florals all play an important part in her work, albeit abstracted to allow a freer expression. For Mary, the process is very much about communicating energy through the combinations of colors, light, and shapes, while leaving the interpretation of that energy up to the viewer.

Although mainly self-taught, Mary has had the pleasure of taking courses in acrylic in the US, drawing in Norway, watercolor technique in Sweden, Japanese printmaking and Bingata in Japan, as well as mixed media with various artists.
With the exception of a smaller body of work each year, Mary's pieces are untitled, and simply assigned numbers instead. This allows a purely personal experience for each person viewing the work, untouched by the artist's interpretation.

Keep up with Mary and her latest work on www.MaryRedmannArt.com, as well as on Facebook and Instagram (@maryredmannart
).
Artwork
Contact Mary
SaveSave
SaveSave
SaveSaveSaveSave
SaveSaveSaveSave
SaveSave
SaveSave