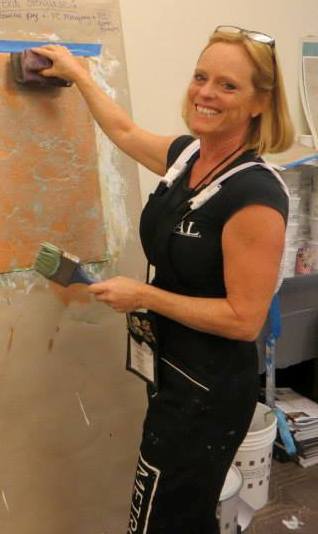 KRISTA VIND
Krista Vind is owner/principal artisan of Ufauxrea®, The Artists Warehouse and Gallery of South Walton, and THE Studio Destin, a decorative arts training facility.
Krista has always studies and worked in various art based fields, starting in high school with photography. She mastered both negative and print retouching as well as winning several awards for her nature photography.
She taught for 5 years at The Faux Finish School in Louisville, KY, one of the most renowned faux finish schools in the country, using Faux Effects® cutting edge line of proprietary products before opening her own training facility in 2010 here on the Emerald Coast. In addition to teaching at her own studio, she has taught many decorative painting classes at other artists studios and the International Decorative Artisans League convention through the years. Many of her students have gone on to become instructors and/or studio owners as well. Her skill and distinctive style of decorative painting has made her a much sought after artist, as well as teacher.
In addition to her decorative painting commissions and classes, Krista creates unique pieces of art often using techniques discovered through her experience with faux finishing. She describes her style as "Reactive Art" often using metallic resins and other materials to create unique movement in her pieces. Her work can be viewed at her gallery, The Artists Warehouse of S. Walton in Santa Rosa Beach, FL and will be available for online viewing in the near future. She will be featuring a rotating group of other artists work at the gallery as well.
Her works have been featured in such publications as Veranda, Coastal Living, Faux Effects World magazine, Paint and Wallcovering Contractor magazine, Emerald Coast Magazine, Simply Creative Faux Finishes with Gary Lord, Modello by Design by Melanie Royals (Volumes 1 and 2).
Recently she founded a new Gulf Coast chapter of IDAL aptly named "Emerald Coast Artisans".
She is also an avid catamaran sailor and along with Skipper, Michael McNeir, 2016 Hobie 20 National Champion.
Artwork