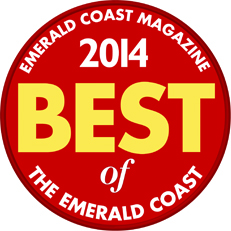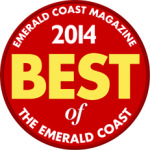 One of the most well respected publications in the Florida panhandle, EC Magazine reaches from Inlet Beach to Pensacola. Each June since 2000, over 20,000 readers are asked to vote in 140 categories in their Best of the Emerald Coast Readers Choice Poll. The winners are announced in October, followed by a huge celebration party. In 2012, Best Local Artist was added as a category, and local residents voted Andy Saczynski as the very first winner. (This was the same month that Andy was selected as Visit South Walton's Artist of the Year.) A year later, readers again voted Andy as the winner of that category. Now, for the third straight year, Andy has been voted Best Local Artist. He's honored to have the local community recognize him in this way.
Andy Saczynski's studio-gallery is located on Logan Lane in Grayton Beach. He creates pieces with recycled and re-purposed materials, along with found objects. All of his work is displayed downstairs, reaching up the 20-ft walls. Visitors are allowed and encouraged to come upstairs to see Andy's studio space and watch as he develops mixed media assemblage pieces. Over the past few years, his unique style has captured the attention of customers, fans, and even national companies. In fact, you can find Andy's art on Immaculate Baking Company's products across the United States. It's easy to see why he was voted Best Local Artist again this year.
The 14th Annual Best of the Emerald Coast event is hosted by EC Magazine to benefit the Junior League of the Emerald Coast. Held at Grand Boulevard at Sandestin on the evening of October 25th, this popular and well attended celebration party will showcase this year's winners, including Andy. The public is invited to an evening of food, fun, fashion, and entertainment. Your ticket will allow you to sample from the best restaurants, shopping, and businesses on the Emerald Coast.
To learn more about Andy, visit his website or see his page here on the Artist's of 30A.