Coming Soon: Joan Vienot's Sea & Sky Exhibit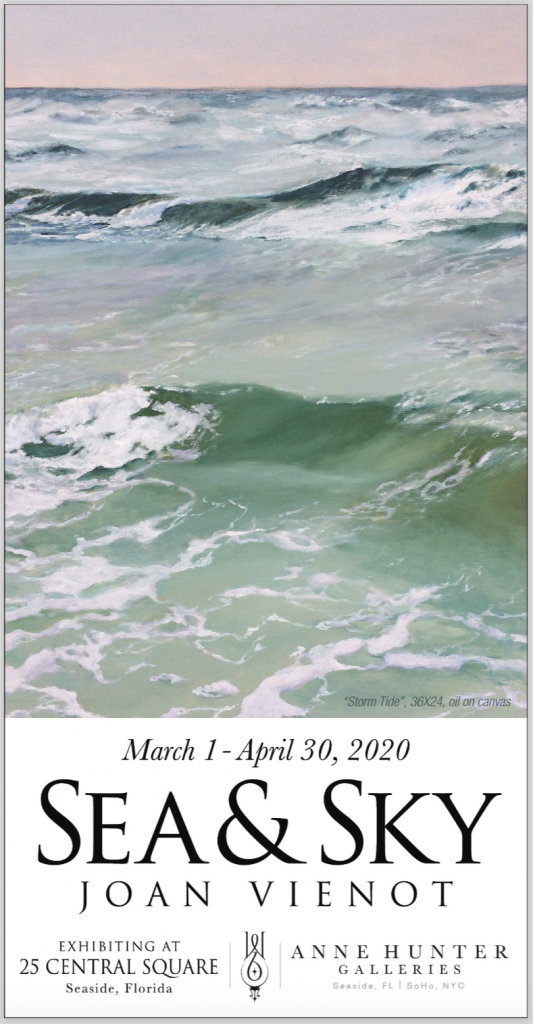 Joan Vienot is exhibiting her collection of paintings produced for her theme, Sea & Sky, at Anne Hunter Galleries at 25 Central Square in Seaside, Florida, March 1 through April 30, 2020.
Joan says "I am fascinated by the rapidly changing energy and imagery of both forms of water, from puffy summer cotton balls scudding across the sky, to dramatic threatening thunderheads, and similarly, the gentle lap of clear water on a calm day, and the roaring surf of an approaching storm." Initially studying realistic color transitions and rhythmic patterns, the theme carried her into expressive, iconic imagery.
Open daily, the gallery will have a number of opportunities to visit with Joan.
Opening reception March 13 5pm-8pm
Mondays, demos and activities 9am-3pm
Thursdays, Meet the Artist, 5-8pm
First Fridays, wine and cheese, 5-8pm
Park in public parking on Road 283 across from Hurricane Oyster Bar, and take the Seaside Shuttle. Anne Hunter Galleries is at 25 Central Square, adjoining Amavida Coffee.
Or use valet parking in Seaside on Quincy Circle (west side), behind the Gallery.
www.joanvienot.com