An Update From Artist Lynette Moody
From Lynette Moody:
Greetings to all of you! I am hoping this email finds you all well and safe. It's a difficult time for many. But…it's spring and the world outside doesn't stop for a virus. Birds are singing and flowers are blooming. Enjoy. Many of you know that I have moved to the Panhandle of Florida from Arizona. My style of art has changed a bit. I still do some Southwest designs. But a few things have been added…namely bronze flamingo and mixed media palm tree. The tree is a 6 ft wall piece in aluminum, bronze and fused glass. Right now, I'm working on a pelican wearing a hat! While all art shows have been cancelled indefinitely, all art is available for purchase and shipping. Go to my website lynnettemoody.com. If you find something that will brighten these days, let me know and I will answer any and all questions. Please stay well and stay safe.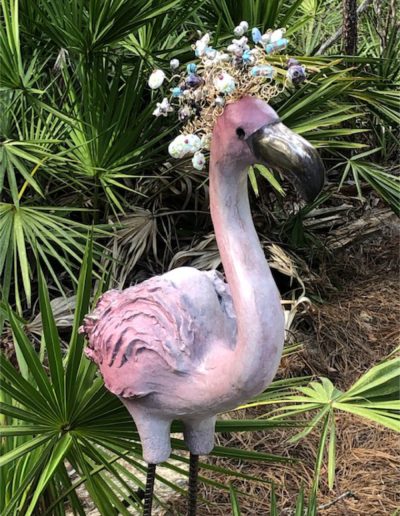 This is Flo. She is a bronze flamingo with four foot long legs and pink high tops. She is guaranteed to make you smile. Indoors or outside to greet visitors. Can be shipped.
Email: lmartistry1@gmail.com