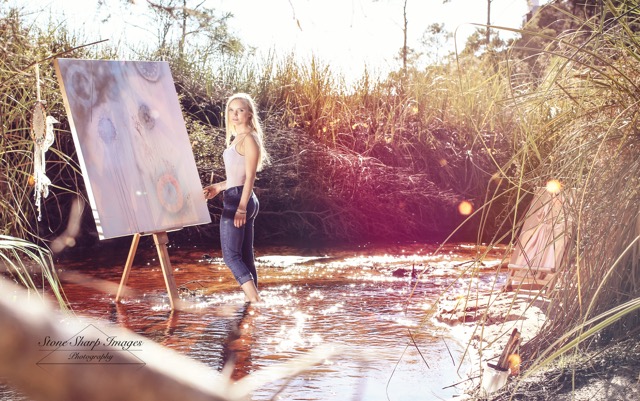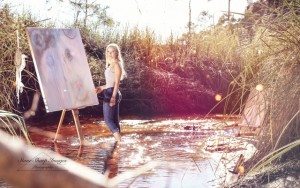 Insatiably curious, Kate Wilson is constantly seeking new experiences, knowledge, and artistic endeavors. Her body of work is richly diverse, from abstract oil portraits that merge traditional compositions with innovative and bold style, to abstract acrylic paintings that blend ancient symbolism with contemporary design elements. As well, her portfolio hosts a series of watercolor ink paintings in which architectural structures are juxtaposed with organic forms. While her portfolio includes a variety of painting media, her paintings are tied together by her signature style that is distinguishable and unique.
Traveling is a strong source of inspiration behind Wilson's work. As a young adult, she visited France, Germany, Holland, and Greece. In 2015, she visited the Greek islands, where she attended her baby cousin's christening and connected with local artists, fully immersing herself in the way of life on the Mediterranean. Returning from Greece, Kate was filled with new ideas, visually and conceptually, which allowed her to develop a series of paintings, "Dreamcatching", which were displayed in a solo exhibition at V.Lala Galleries.
Beginning in April of 2016, Wilson uprooted her life in Santa Rosa Beach, Florida to relocate to Los Angeles, California, where she is now living and working. On her cross-country roadtrip, Wilson experienced the diversity of the American landscape, staying in small towns in Mississippi, Arkansas, and Kansas; revelling in the magestic landscapes of the Hill Country in Texas; the mountains in Colorado; the deserts in New Mexico; the immense depths of the Grand Canyon; and the rolling mountainous terrain along the Pacific Coast of Big Sur, California. Ending her pilgrimage in the vibrant Los Angeles County community of Venice Beach, Wilson settled into her new life with a rolodex of memories, feelings, and conceptual depths that guide her artistic endeavors. Her perception of the American spirit, as experienced during her roadtrip, is romantically expressed in her newest body of work, "How We Share Our Space", which will be displayed at Le Cellier in Venice, California during the late summer of 2016.
Wilson attended Parson's New School for Design, Auburn University, and the University of Montevallo as an undergraduate student, receiving her BFA degree from the University of Montevallo in 2013, graduating Magna Cum Laude. After graduation, Wilson held the position of Gallery Supervisor at V. Lala Galleries in Inlet Beach, Florida while simultaneously working as Studio Assistant to Velia Lala, a painter and sculptor who mentored Wilson during her early career.
In 2016, Wilson exhibited her work at Art Expo: NY, New York City, and had her first solo exhibition at V. Lala Galleries, Inlet Beach, Fl. Her work has been shown at Avondale Bricks Gallery, Birmingham, Al; Magic City Art Festival, Birmingham, Al; Empowerment 2, Pensacola, Fl; Up In Flames Entertainment, Pensacola, Fl; Energen Competition, Birmingham, Al; Artopia: The State of Art, Birmingham, Al; and Napier Juried Art Show, Montevallo, Al; along with a plethora of other juried shows, silent charity auctions, and public art events. Independent Curator/ Private Art Advisor, Caroline Taylor granted Wilson the Miller Communication Award of Merit in 2014 at the Magic City Art Festival. In 2013, Wilson was awarded the Dorothy Mullicans Scholarship for her artistic achievements at the University of Montevallo. As well, she received numerous awards and acolades during her career as an art student. She looks forward to a lifelong career as a prolific and inspired artist.
[ngg_images source="galleries" container_ids="46″ exclusions="566,568,570,571,573″ display_type="photocrati-nextgen_basic_thumbnails" override_thumbnail_settings="0″ thumbnail_width="250″ thumbnail_height="250″ thumbnail_crop="1″ images_per_page="20″ number_of_columns="0″ ajax_pagination="0″ show_all_in_lightbox="0″ use_imagebrowser_effect="0″ show_slideshow_link="1″ slideshow_link_text="[Show as slideshow]" order_by="sortorder" order_direction="ASC" returns="included" maximum_entity_count="500″]
Kate Wilson
kate@kwcontemporaryart.com
310-804-3630